Small Business Spotlight: The Square Cupboard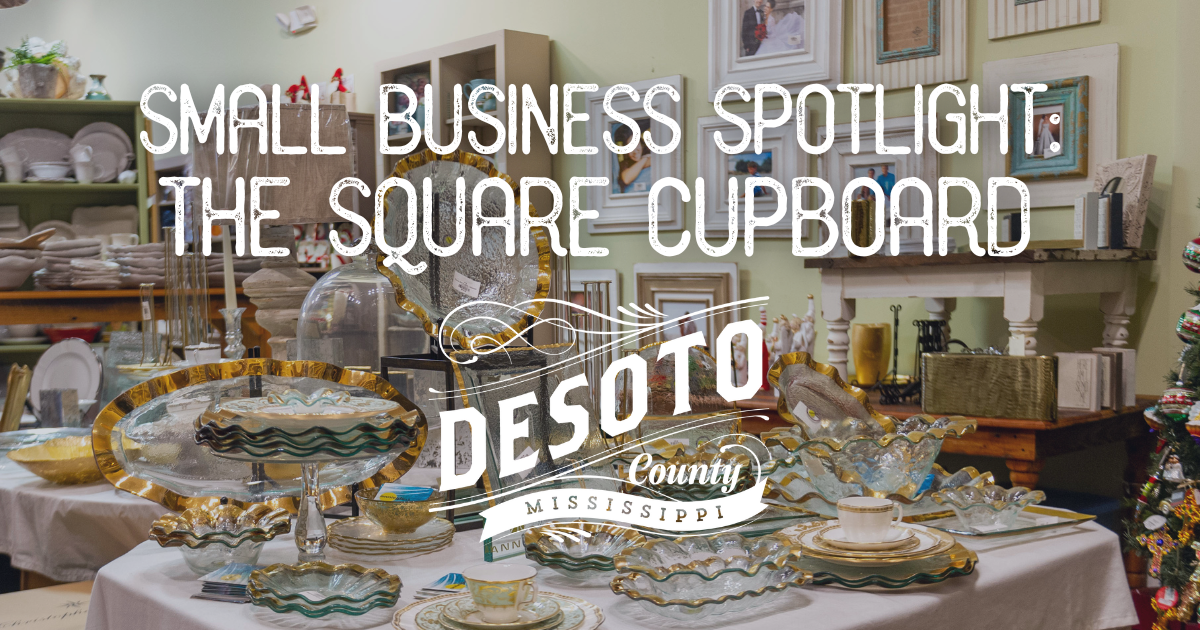 If you have a soft spot for delicate china or Mississippi-made pottery, or if you're on the hunt for gifts with a touch of Southern charm, then the next time you're in DeSoto County, Mississippi, you must visit The Square Cupboard. It's a gem of a boutique that opened at Hernando's Courthouse Square back in 2008.
Meet the brains behind this stylish operation, Jamie Whitley Smith. By the age of 5, Jamie was a fan of all things fancy. As a little girl, Jamie spent hours playing in her grandma's curio cabinet. She'd unwrap the precious bone china, set the dining room table with crystal goblets and sterling silver, and then step back to admire the elegance. As an adult, through college coursework and a summer spent in Italy, Jamie's love for the finer things naturally grew into a passion for interior design and original artwork. Two decades after she created her first stunning tablescape at her grandmother's house, Jamie and her husband Charlie decided to open The Square Cupboard.
Housed in what was once a hardware store, the boutique offers a treasure trove of unique finds that will spruce up your space in the most charming way possible. From fancy china (of course!) to everyday dinnerware that strikes the perfect balance between practical and chic, The Square Cupboard has gifts for every occasion – birthdays, holidays, baby showers – you name it.
Now, for all you lovebirds planning to tie the knot, The Square Cupboard is the fairy godmother of wedding essentials. The boutique collaborates with various companies catering to brides and grooms to offer a comprehensive range of services and items, from invitation and program design to accessories that add a personal touch to the big day. And, couples can create an extensive wedding registry complete with fine china, everyday dinnerware, pottery, decorative items and more.
So, there you have it, folks – The Square Cupboard is a place where elegance meets Southern charm in the most delightful way. Stop by soon to check out its offerings for yourself and be sure to tell 'em we sent you!