Top 6 happenings at the Mid-South Fair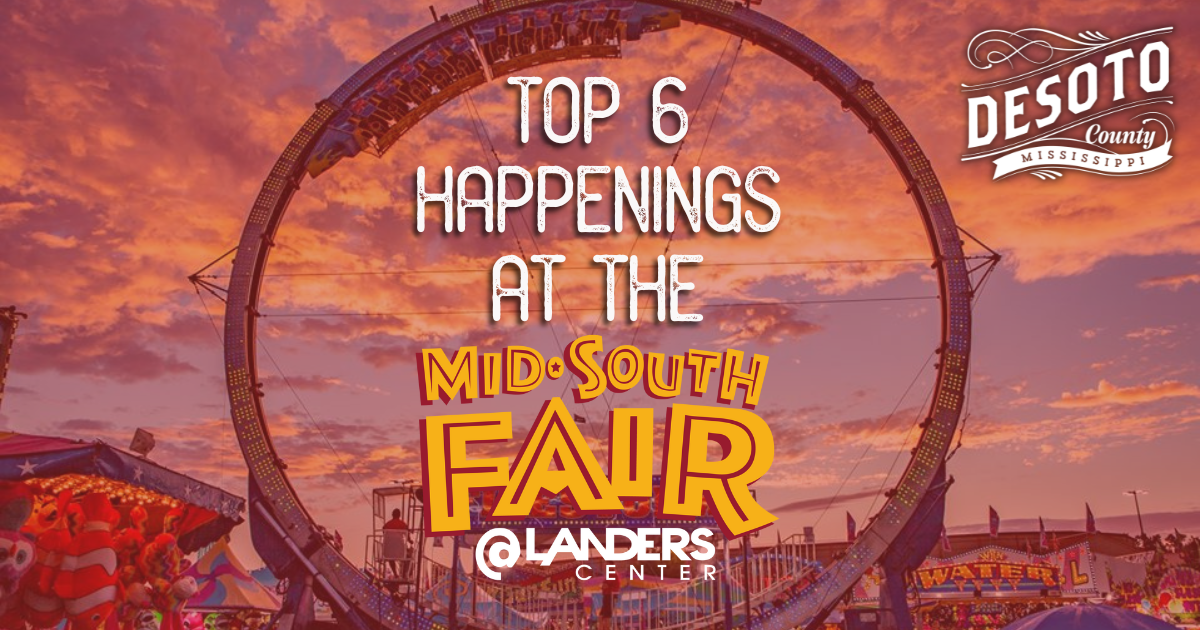 It's that time of the year again in DeSoto County, Mississippi! The 2022 Mid-South Fair returns to Landers Center in Southaven Sept. 22-Oct. 2. The Fair has been a staple in the Mid-South for more than 160 years, getting better and better each time. How about a sneak peek?!
Miss Mid-South Fair Pageant
She is beauty, she is grace – she is Miss Mid-South Fair! The annual competition is a favorite for beauty queens across our area. The winner of the coveted title receives scholarship money to go toward their college education, furthering the Fair's mission of providing educational opportunities to our youth.
Youth Talent Competition
Is your child the next Justin Timberlake, Lucy Hale or Reagan Strange? Don't miss out on the Mid-South Fair's Youth Talent Competition! Singers, dancers and more are invited to strut their stuff on stage at the Fair. Cash prizes are awarded to the top four acts in both age groups. The senior division Grand Award winner also earns a private audition in Hollywood or New York City, is awarded a scholarship of more than $30,000 to Visible Music College and can provide special entertainment at the 2023 Mid-South Fair Youth Talent Contest Senior Grand Finals.
Student Art Contest
The Mid-South Fair's Student Art Contest showcases art pieces from DeSoto County School's students ages 5 to 18. The winners are awarded cash prizes and ribbons for their work, plus their art is displayed at Landers Center throughout the run of the Fair.
Music on the Mainstage
Jam out with your favorite musicians on the mainstage! This year, the Fair is hosting super talented solo acts and groups, including Ellie Holcomb, Ingram Hill, Bailey Zimmerman and more. Who's ready to rock?
Midway Rides
Thrill seekers, this one is for you! Whether you enjoy catching some air on the swings, taking in the views of the ground on the ferris wheel or spinning around on one of the many high-speed rides, there is something for everyone at the Mid-South Fair.
Ground Acts
Families can not only expect fun, but some educational activities, too, thanks to the stellar ground acts lineup. Acts include Aussie Kingdom, which features interactions with wildlife native to Australia; Sea Lion Splash, a presentation showcasing the relationship between rescued sea lions and their handlers; and Wolves of the World, which provides a look into an enigmatic rescued wolf pack. Pig races, pony rides and a petting zoo will also be onsite throughout the Fair's run.
BONUS: Food
The Fair wouldn't be the Fair without the FOOD! Everyone's favorite Pronto Pups, funnel cakes, turkey legs and fried desserts will be waiting. If traditional Fair food isn't your thing, you're sure to find something to satisfy your tastebuds from one of the several food trucks on site. We can almost smell it now…Yum!
Who's excited?! Don't miss out on the 2022 Mid-South Fair running Sept. 22 to Oct. 2 at Landers Center in Southaven. For more information on tickets and wristband pricing, live music, youth contests and more, visit www.midsouthfair.com.